So, this is probably my last post of the year.
So all at once, Merry Christmas, and have a Happy New Year.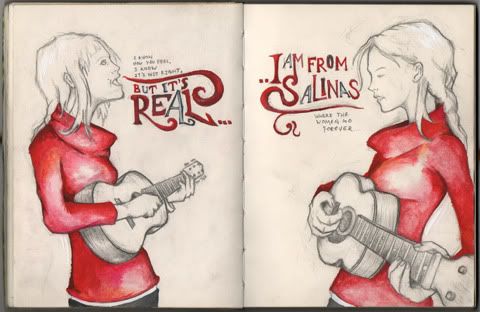 Looks like I'm ending this year on a
note pretty similar to the beginning of this year.
Way back in October I had the pleasure of seeing Laura Marling perform again.
Once again she managed seemingly effortlessly blow my mind.
If you ever fall upon a chance to be in her audience, I suggest you take it.
The image above depicts the performance of two songs back to back from her most recent album
'A Creature I Don't Know,'
titled
'Don't Ask Me Why'
and
'Salinas'.
These songs are meant to be heard together, and just for a bit of clarity, I think you should have a listen:
Don't Ask Me Why/Salinas (Live at the WFVU)
This album, that she finished this year, may be my favourite Laura Marling album so far, and is one of the many incredible albums released this year.
I've been tempted to do a typical 'Top # Albums of 2011' post, but instead I've settled on creating a playlist full of some my favourite songs from these albums. I know that's equally as low on the creative scale, but still. I enjoy it.
I hope you do too, just click below to listen:

So yeah, to re-iterate Have a Happy New Year.
Lets start again next year.
In the best possible way.